About BOC
What's your next step? We provide free resources to help you and your business grow. Whether you're a pre-start-up or a long-established enterprise, the BOC Network's alliance of local Business Outreach Centers can help.
Our Mission
Business Outreach Center Network's mission is to improve the economic prospects of traditionally underserved groups, with a focus on low- and moderate-income entrepreneurs and their communities.
At the heart of our mission is the belief that people in all communities share a common goal of achieving economic stability and growth. The hallmark of BOC is working in partnership with culturally diverse individuals and organizations in support of a brighter future for all.
Our History
Piloted in 1989, and expanded citywide in 1992, the Business Outreach Center (BOC) Network is a multi-community coalition dedicated to community small business development with local centers in ethnically diverse and underserved neighborhoods across New York City and Newark, New Jersey. It was born in response to the growing awareness of the challenges that thousands of small businesses across New York City were facing.
These enterprises are handicapped by their limited access to credit and technical assistance services. The problem is especially severe for BOC Network's target client base: minority, immigrant, and female entrepreneurs, who often operate in isolation from mainstream markets, and whose businesses are located in low- to moderate-income communities. These businesses are often key sources of jobs for the residents of the neighborhoods they are in or they serve. The BOC Network initiative was conceived as a way to break through their isolation and to provide technical assistance to help bridge the gap limiting their prosperity and growth, in turn helping to stabilize local economies.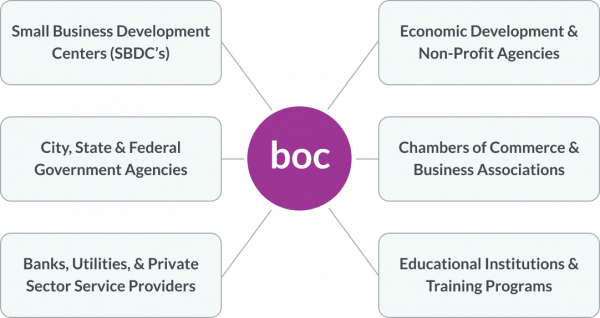 BOC Model
Speaking the languages of the communities they serve, individual BOCs have proven to be ideally suited to reach and extend a guiding hand to local entrepreneurs whose challenges are many and resources few. Individually and in concert, the BOC Network's growing alliance of Business Outreach Centers, or BOCs, connect local entrepreneurs to the full complement of business assistance services, as well as to financial, legal, and other resources.
BOC business counselors provide one-on-one needs assessment, business planning, marketing, and management guidance, as well as access to resources and markets through BOC Network's extensive linkages. They successfully guide them through the process of starting and developing their enterprises, connect them with financing, market access, and the full spectrum of public and private assistance sources. Then, we follow up with our small business clients as they progress and their needs evolve.
Title VI Statement
Business Outreach Center (BOC) Network is committed to providing fair and equal access to our small business programs and services for all individuals and businesses, regardless of race, color, religion, sex, national origin, age, disability, familial status, sexual orientation, gender identity, or any other characteristic protected by law.
BOC adheres to a strict policy of non-discrimination in all aspects of its operations, including but not limited to the application process and provision of services. We believe that diversity and inclusion are essential values that contribute to the success and growth of our community.
Contact Us
Corporate and philanthropic partnerships— Contact Jean Tanler, Program Manager: jtanler@bocnet.org

Press and media inquiries— 
Contact Tasha Balkaran, Communications Associate: tbalkaran@bocnet.org

Information about BOC program areas—
Contact information for each of our programs can be found within our program pages. Or, find a local BOC office near you.