Diane Moore
BOC Network helped CleanWork Solutions experience 400% revenue growth in two years.
Diane Moore, owner of CleanWork Solutions, is a lifelong Bronx resident who founded CleanWork Solutions to become her own boss. CleanWork Solutions is a certified MWBE that provides environmentally friendly commercial cleaning and janitorial services whille paying livable wages to individuals facing barriers to employment across New York City.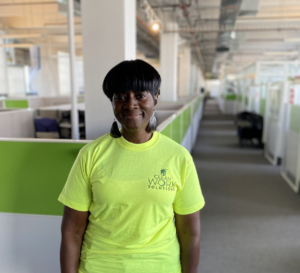 Diane came to BOC Network in October 2017 as a cohort member of the Good Jobs and Community Wealth Building Initiative, a partnership between BOC Network, BronXchange and the Mayor's Office of Workforce Development. The initiative provided innovative management training through the BOC Business Peer Exchange.
As a participant in the Good Jobs Initiative, Diane focused on improving her HR management. She wanted to cultivate employee buy-in and minimize employee turnover. Diane re- evaluated her current team and began delegating solo work to staffers who performed poorly on team projects. There was noticeable improvement in employee engagement and organization turnover decreased.
CleanWork Solutions has experienced 400% revenue growth (2017-2019) . Between March 2019 and July 2019, Cleanwork Solutions has expanded from 4 to 23 employees with wages ranging from $15 to $39 per hour. Employees receive additional on the job training allowing them the potential to move into supervisory roles within the company.
Now, hiring practices focus on socially-driven workforce development and career training programs located in low-income neighborhoods.. Cleanwork Solutions Inc regularly hires formally incarcerated individuals through partnerships with community based organizations such as 'Exodus Transitional Community' in Harlem, an organization committed to combatting recidivism rates.
In 2019, Diane founded a second business, a janitorial supply distribution company called The Klean Depot. Through the initiative, CleanWork Solutions was able to secure a $40,000 sanitization contract with the Wildlife Conservation Society, sanitizing the bathrooms of the NY Aquarium. This is an ongoing 7 day a week contract that lasts until December 2020 with a potential to extend depending on the current climate. Diane Moore will be renting her equipment to her cleaning company CleanWork Solutions to perform the work at the Aquarium.
Diane approached BOC Capital in June 2020 to access financing ($10,000) to purchase sanitizing machines to perform deep sanitization work. BOC Capital was able to provide the requested financing at $10,000 through the Entrepreneurs of Color Loan Fund, resulting in a 12 month term loan at a 3% interest rate. Furthermore, this loan was enrolled in the SBA debt relief program, providing coverage for the first 6 months of the loan term.
"The people who work for BOC are genuinely concerned about your being successful. Every person I have interacted with has a love for business
and wants to see you do well."